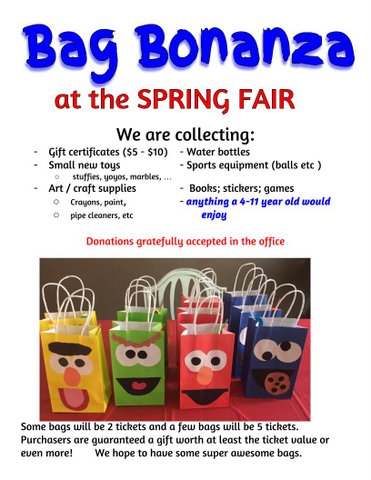 Spring Fair letter to parents 2019
SVEPAC Spring Fair Donation Letter 2019
Spring Fair (June 7) planning has started!   There are many roles form small to big for this important event so email pacsve@gmail.com if you are interested in being part of the team planning the event.
One of the most popular activities at the Spring Fair coming up is the Bag Bonanza station.  We will have a collection of gift bags set up with a surprise inside. The students can use their game tickets to choose their favorite bag and they get to keep the surprise. We usually 'sell out' of the hundreds of bags that we have available.
If you are over run with Christmas extras or see items on sale please consider donating them to the Spring fair! We are looking for gift bags of any size and theme as well as new or gently used gifts that your children would be happy to take home such as:
Art supplies          – Small toys
Colouring items    – Books
PuzzlesWe will have tote bins set up in the school office ready for your donations.
Thank you from the Spring Fair organizing team
THRIFTY FOODS SMILE CARDS
We are excited to announce we have been approved once again for the 2016-2017school year to take part in the Thrifty's Smile Card fundraiser. For every purchase made with a Strawberry Vale PAC Smile Card, 5% comes back to the PAC (up to a maximum of $2,500). The proceeds from this fundraiser goes to the purchase of Apple iPads for the students to use. With the proceeds from the 2016-2017 school year, we were able to purchase 3 new mini iPads!
PARTICIPATING IS SIMPLE, AND THERE'S NO COST TO YOU.
Pick up a Thrifty Foods Smile Card Fundraising Card from our Smile Card administrator.
Bring the card with you to Thrifty Foods every time you go grocery shopping.
Before you load your groceries at the till, ask the cashier to load any dollar amount on the card you like.
*Important: Card load must take place before groceries are rung through. You can pay with cash, debit or credit card.
Pay for your groceries with the Smile Card.
When your card is running low, load it back up to continue supporting us.
THAT'S IT! 5% OF YOUR CARD LOAD WILL BE DONATED TO THE STRAWBERRY VALE PAC.    It all adds up and all you have to do is carry the card with you! Contact Brenda Knox at bspencerknox@gmail.com to pick up your card.  Please load up your cards right away and get shopping!  If you need extra cards to give to family and friends, please come to the school office.
BOTTLE DRIVE & TREE CHIPPING
Each January, a Bottle Drive and Tree Chipping event is held at the school between 11am and 2pm. Families and neighbours bring their bottles and undecorated Christmas trees to the school for recycling. Parent volunteers sort the bottles. Families dropping off their trees make a donation to have their trees chipped on-site. The money raised from this fundraiser is usually allocated to enhance nature/environmental education activities and outdoor beautification of the school such as the Nature Play Perimeter Pathway project.
MOTHER'S DAY FLOWER BASKETS
Each April, families are sent an order form to purchase hanging flower baskets and bedding flowers (for Mother's Day and/or for spring planting). The campaign usually runs for two weeks. The week before Mother's Day, the flowers are delivered to the school and families pick up their orders.
CO-OP GAS
Strawberry Vale School has a Co-Op number that any family can use when purchasing gas at any Co-Op location in Victoria. The number is #23650.