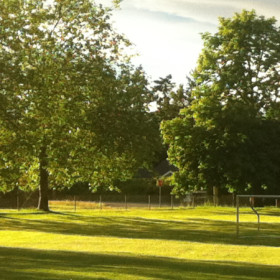 Strawberry Vale is a K-5 school with a population of approximately 304 students. It is located in a semi-rural area in the municipality of Saanich, surrounded by Garry Oak meadows, a school pond and Rosedale Park.
We strive to maximize the potential of each student through personalized learning. We foster a community of respect and provide a positive, caring and nurturing environment in which all individuals are valued. We are a school that believes in Caring, Sharing, and Learning Together.
Our innovative building blends into the environment and echoes the theme of Environmental Awareness in the community. Our school grounds provide a wealth of opportunities for students to interact with nature. We have a Garry Oak meadow, a native plant garden, stream and school pond that serve as outdoor classrooms. The floating dock in our pond area continues to enhance the opportunity for our students' environmental studies. We have created a relationship with the municipality of Saanich that has resulted in the creation of two new parks, Straw berry Knoll Park and Strawberry Vale Garry Oak Corner where we have developed a history of providing stewardship with native plant care and invasive plant removal.
Teachers have built up a series of nature walks and experiences in our neighborhood that change with the seasons and monitor the conditions in our local parks. They provide programs where students experience regular outdoor learning opportunities, study concepts of environmental education, Aboriginal use of native plants and learn the importance of providing stewardship for the world in which they live. A culture has been nourished at our school that recognizes the value of connecting children with nature.
We are now ready to enhance and expand our natural play areas by developing a trail around our front playground entitled the Strawberry Vale Nature Play Perimeter Pathway. This area will incorporate the native plant gardens and meander past the pond. We will add several new learning and play features including an area of boulders, a beach, a Big House, deck areas, a maze, edible garden, and a chalk wall. These additions will provide more opportunities to connect children with nature through play and study and benefit their physical, emotional and academic development. All teachers and several of our Educational Assistants are working on this project. We are all excited about embarking on this project.
We continue to embrace the District's Greening project and our extensive recycling program means we are an almost garbage free school. We recycle almost everything that is used in our building. When possible items are reused and we are striving toward limiting the amount of paper we use by creating lessons on SMART Boards, having students create slideshow presentations, movies and other electronic assignments. Our school sends home E-bulletins instead of newsletters. Synrevoice has created a strong communication link between our families and the school.
As a school we continue investigating ways to use digital technology as a means of engaging students and staff. We are using various digital media to allow students to pursue their own learning and to demonstrate their knowledge. Our school has an LCD projector in every classroom; six classrooms have SMART Boards; and we have 30 Mac Books for use in the Intermediate classes. With the support of our PAC we currently have 15 iPads available for use in classrooms. Digital technology is one of the strategies used to engage students and assist them in Reading, Writing, Oral Language and cross-curricular assignments.