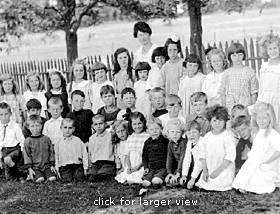 The first one-roomed Strawberry Vale School erected in 1893, was situated on the corner of Hastings Road and Delmar served until 1913, when a, a two-roomed building was built. A new four roomed school was opened in September 1951 in step with progress throughout the area and was later enlarged.
At the "Pioneer Night" held at the opening of the new school in October 1951, T. Monk, now deceased, first teacher in the original school from 1893 to 1902 recalled watching carpenters building the first one-roomed school house and applying for the teacher's job. He had to keep the school clean and make his own fire every morning. This first building cost $800.00 and paid a salary of $50.00 per month.
In September 1951 the first "Little Red School House" was moved to its present site on Rosedale Park and kept as a landmark in memory of the boys and girls of the district who served in World Wars I and II. A bronze plaque was placed in the building and unveiled by a former mother, Mrs. R. Smith. Today this memorial building serves the community as a pre-school for the future citizens of tomorrow.
The 1913 two-roomed school was demolished in 1952, making way for the present playing grounds.
By 1985, the school consisted of seven classrooms and employed six teachers with a student body of approximately one hundred and sixty.
Over the next ten years the Strawberry Vale community experienced unprecedented growth and development. At the 100th anniversary of the school, there were over 300 students housed in the school and seven portable classrooms situated on the playing field. Once again it was time for a new school. In 1996, students and staff walked up the road to their brand new, award winning school situated at the end of Rosedale Avenue. A native garden and path connected the new school with the old original one room building.
Today, Strawberry Vale has 13 classes, from Kindergarten to Grade 5. The first class facilities include the gym, library and computer lab for the 310 students and 35 staff who work and learn together.